Two players who made major contributions to Dewsbury have sadly passed away in recent days.

Firstly Kevin Osborne
When I first started watching Dewsbury he was a star of a team who reached two Challenge Cup Semi Finals & made Crown Flatt a feared place for opposing teams to travel to.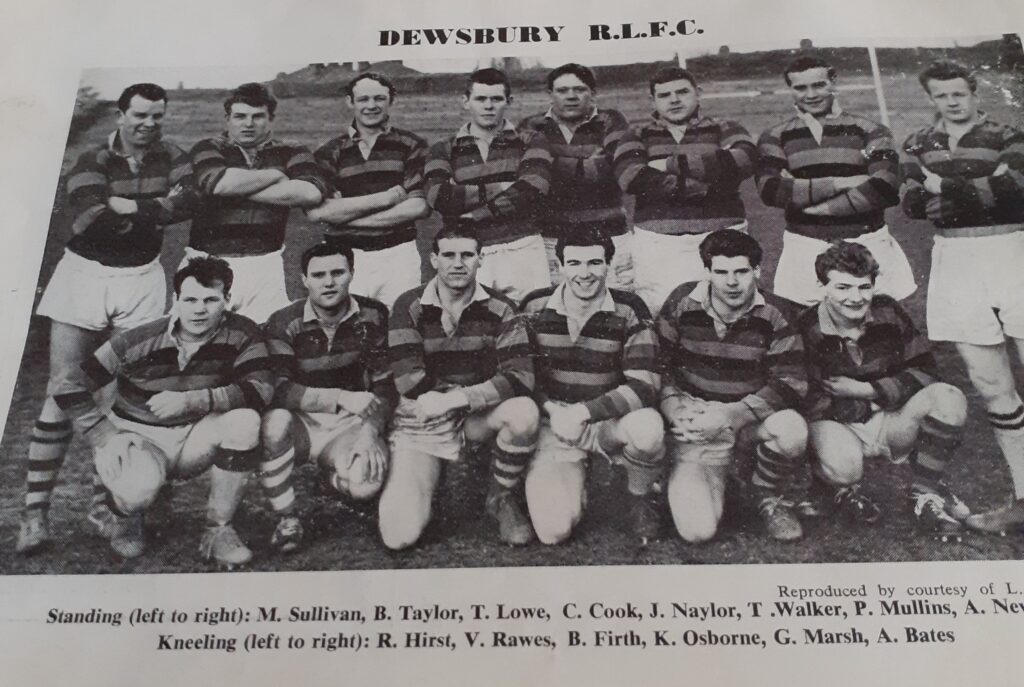 Even as the years pass quickly by you never forget your first heroes – Kevin played alongside the likes of Bob Hirst, Geoff Marsh, Alvyn Newall & Dick Lowe.
He also played alongside his great friend Brian Firth.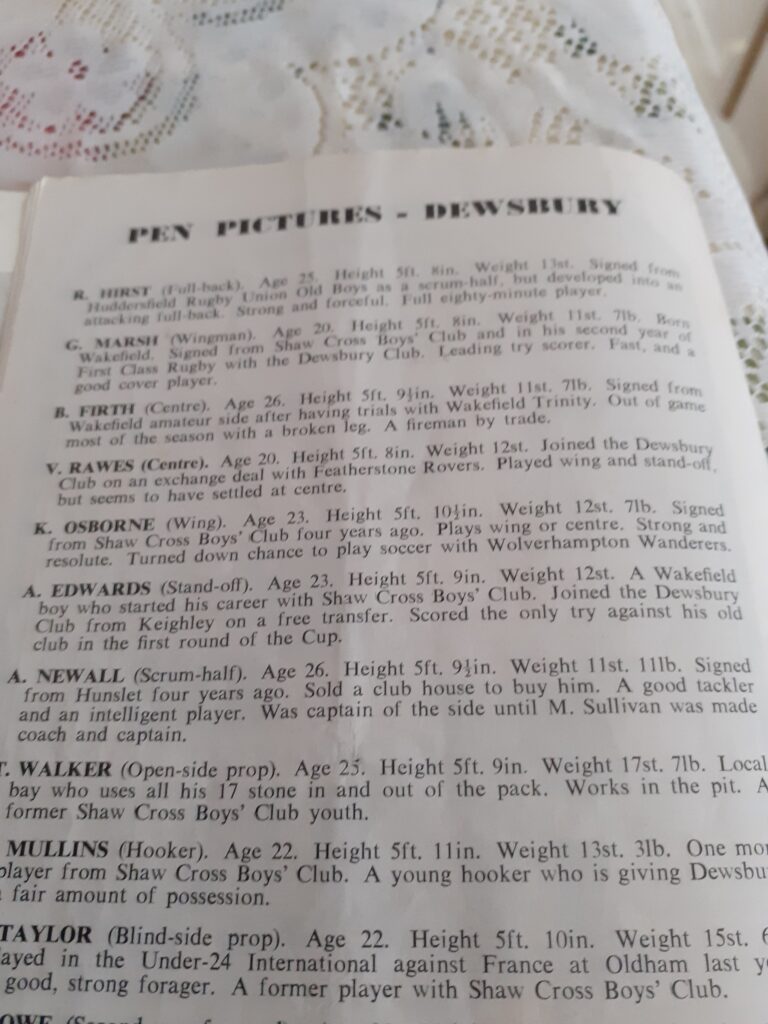 Those two didn't just play for Dewsbury together, they also worked at Wakefield Fire Station together. When Dewsbury became Champions in 1973 they were no longer at Dewsbury but i recall someone saying 'That win is for men like Kevin Osborne & Brian Firth because they embodied the spirit of Dewsbury Rugby League Club'.
Like so many we signed, we signed Kevin from Shaw Cross Boys Club. He played wing or centre & was one of those players who brought sublime elegance to a brutal game.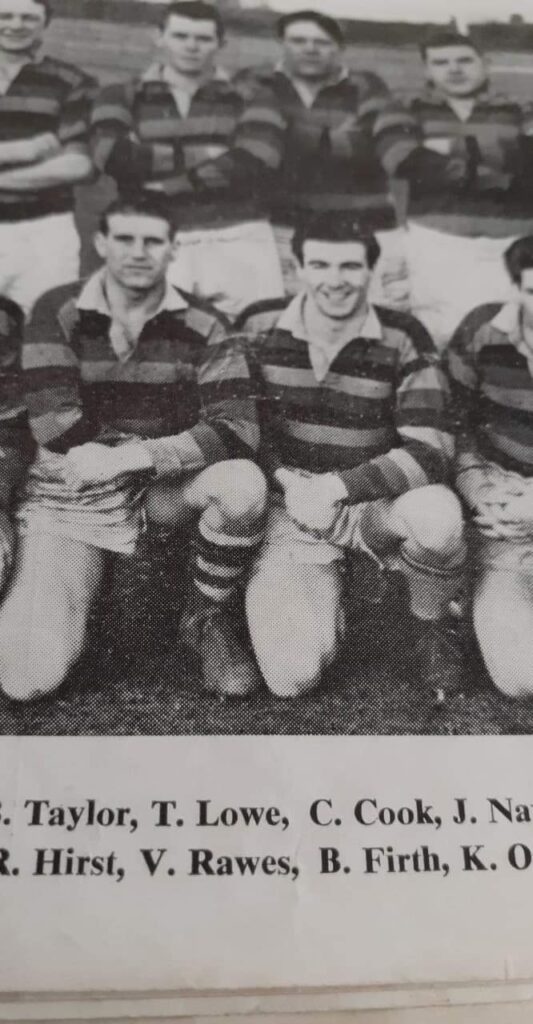 Kevin was also a talented footballer, so good that he was on the books of Wolverhampton Wanderers but eventually chose Rugby League & the Fire service as his chosen path.
I said earlier that you never forget your first heroes & I recall a memory of Kevin just a few years ago. One night I had been with my wife to the Theatre Royal in Wakefield & we went for a post show drink in the Barristers pub. I noticed the unmistakable figure of Kevin Osborne in a group sat nearby, incredibly despite many years having passed since I saw him in Red, Amber & Black he didn't look any different!
I should really have spoken to him & told him i had loved watching him play but your first heroes always leave you starstruck don't they?

Jeff Grayshon

If I hadn't lived through the years that spanned his career I would think it was fictional
He was absolutely incredible. I learned yesterday that Jeff played 740 games in his pro career & that is a record for any forward in the entire history of the game!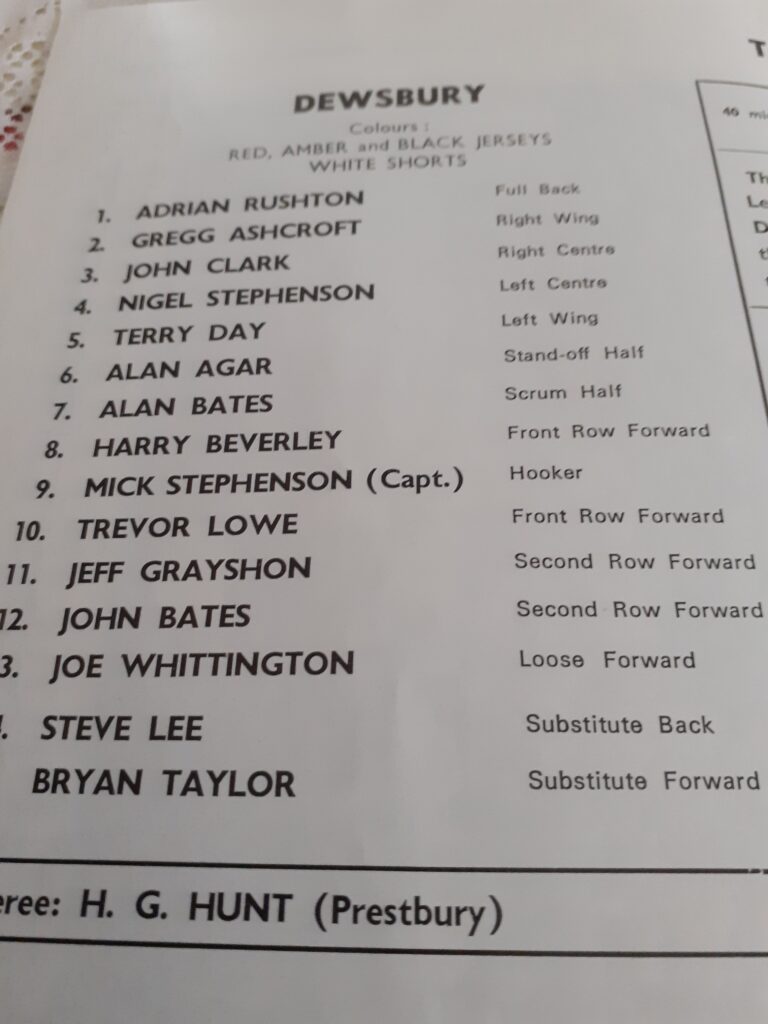 Pundits talk about modern day Super League supermen but do they really equal what Jeff did?
He made his debut for Dewsbury in 1970 & his final game was across the Valley for Batley in 1995.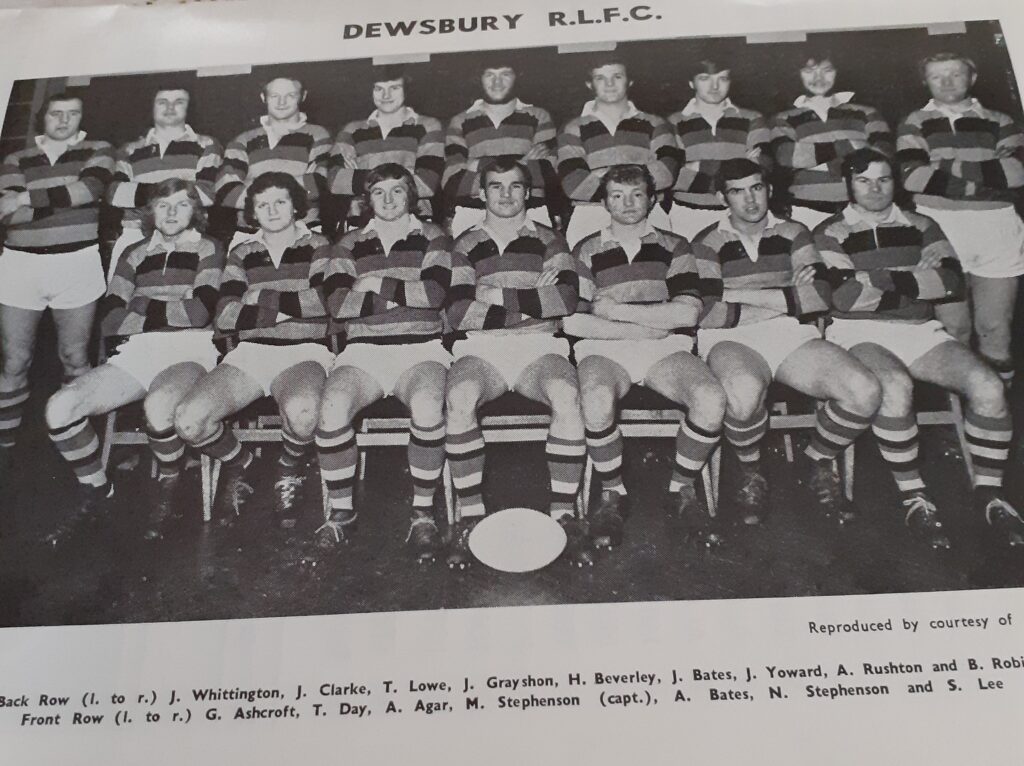 Let us look at his time at Dewsbury. Jeff made 235 starts & 2 substitute appearances in our colours & scored 31 tries. It seems incredible now but when he first appeared at Crown Flatt he was a lanky & lean full back.
Of course he went on to become a giant forward & operated where the going was most brutal. Jeff played in 3 major finals for Dewsbury. He played in the 1972 Yorkshire Cup Final against Leeds at Odsal before going on to become part of the iconic Championship winning team just a few months later.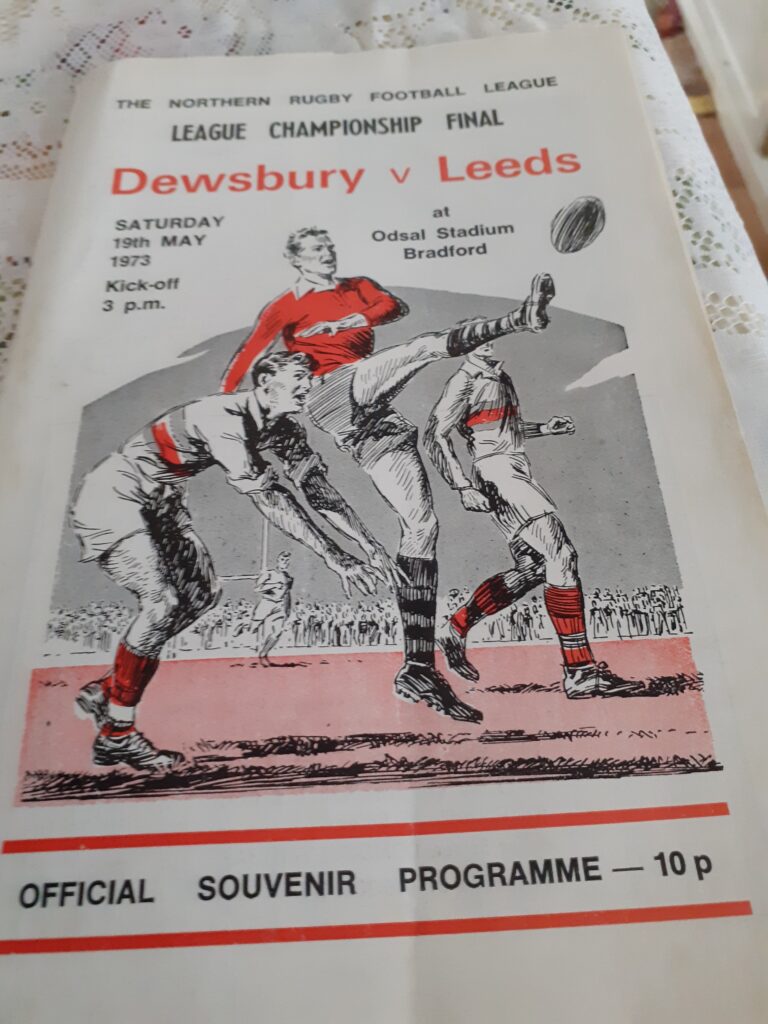 The opposition & venue were identical, just the result was different!
He also appeared at loose forward in our 1975 BBC2 Floodlit Tropy Final defeat by St Helens. In his Dewsbury days Jeff enjoyed a close season stint in Australia in 1977 & played 8 games for Cronulla Sharks.

He achieved international honours during his Crown Flatt days, playing for England in the 1975 World Cup & also represented his country in 1977.
8 years at Dewsbury ended in 1978 when he took a similar route to his great friend Nigel Stephenson & transferred to Bradford Northern. This was the Peter Fox era at Odsal & Jeff won two more Championship medals to add to his 1973 Dewsbury gong.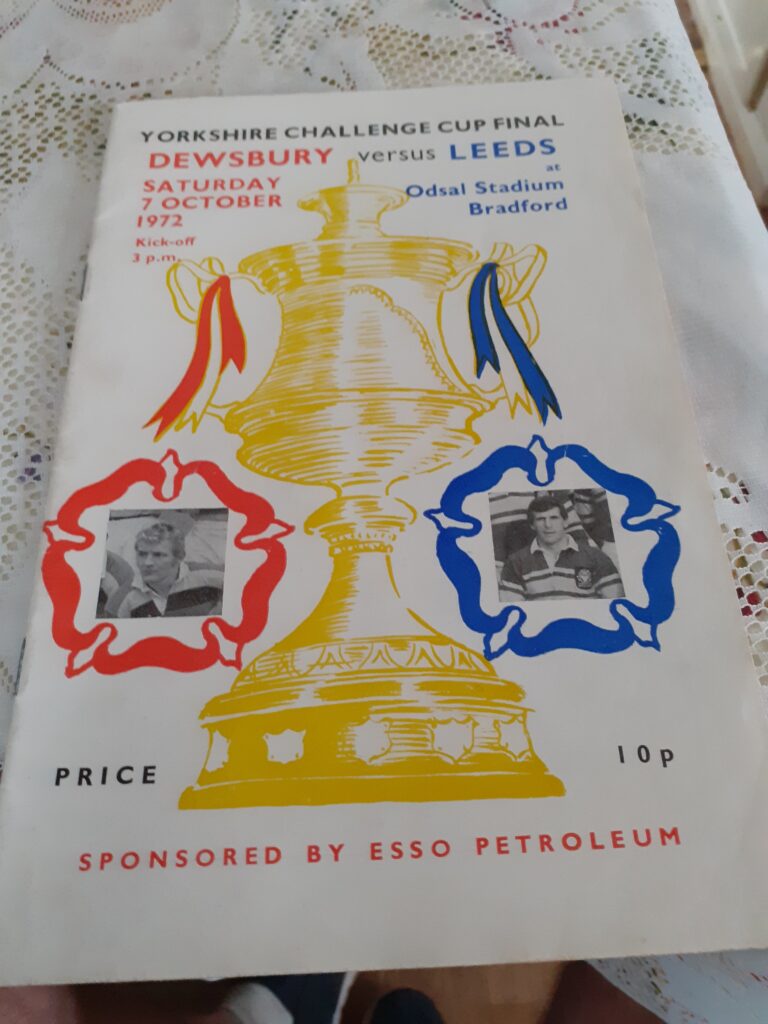 He played for Bradford in their 1980 John Player Trophy triumph against Widnes at Headingley. He also appeared in 3 Yorkshire Cup Finals whilst at Odsal.
Jeff had an iconic relationship with his coach Peter Fox & left Bradford in 1985 to follow his mentor to Leeds.
He made 199 starts & 4 bench appearances in his first spell at Bradford so by comparison his 31 appearances in Blue & Amber plus 2 sub roles was almost cameo compared to his Dewsbury & Bradford days.
By 1987 Jeff had left Headingley & returned to Odsal. He made 15 starts plus 3 off the bench in his second coming at Bradford.

In 1988 a new chapter opened for Jeff when he moved to Featherstone Rovers, he enjoyed a renaissance in the Navy & White hoops becoming a firm favourite at Post Office Road. 97 starts & 3 sub appearances followed for the flat cappers & Jeff even appeared in yet another Yorkshire Cup Final in 1989 when Rovers opposition ironically were Bradford.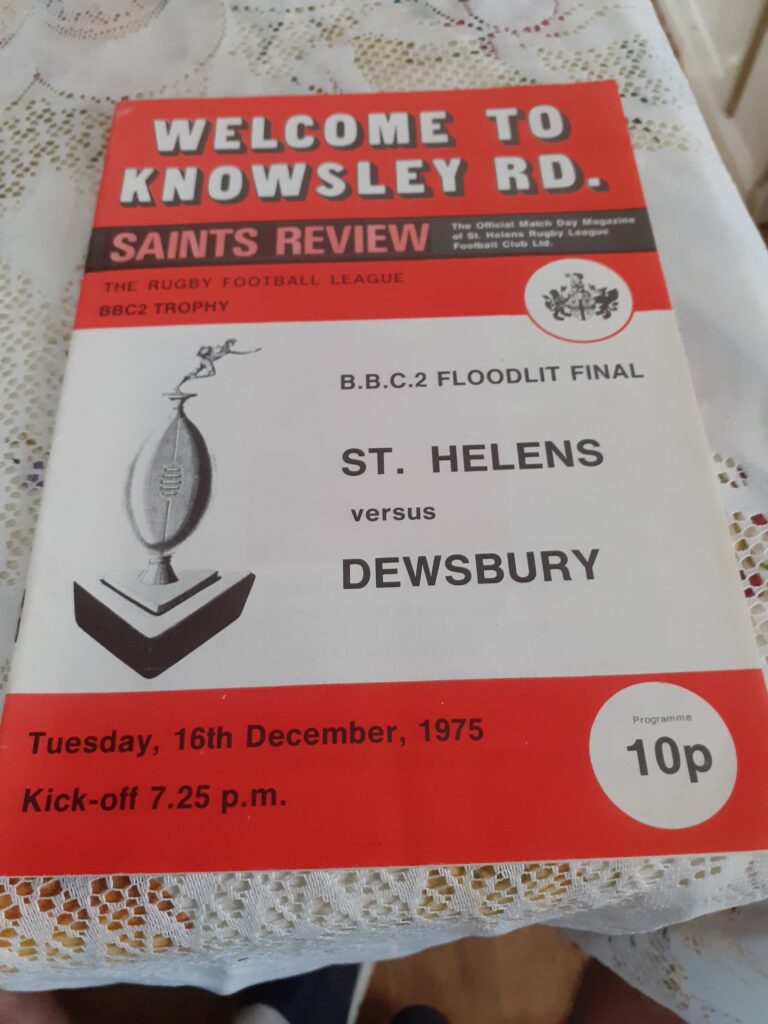 Sadly it was another County runners up medal as Northern triumphed 20-14 at Headingley. I said that Jeff's career almost seems like a fictional story & one legendary happening sums it up.
The longevity of his career saw him actually play against his son during his Featherstone days as offspring Paul appeared for Bradford in opposition to his iconic dad.

Jeff left Featherstone in 1991 but he wasn't done! He returned to the Heavy Woollen valleys & enjoyed a 5 years stint at Batley that saw him ultimately become player Coach. 69 starts plus 35 sub appearances followed at Mount Pleasant with his final professional appearance being in 1995.
Between 1994 & 1996 he held the coaching reigns at the Mount.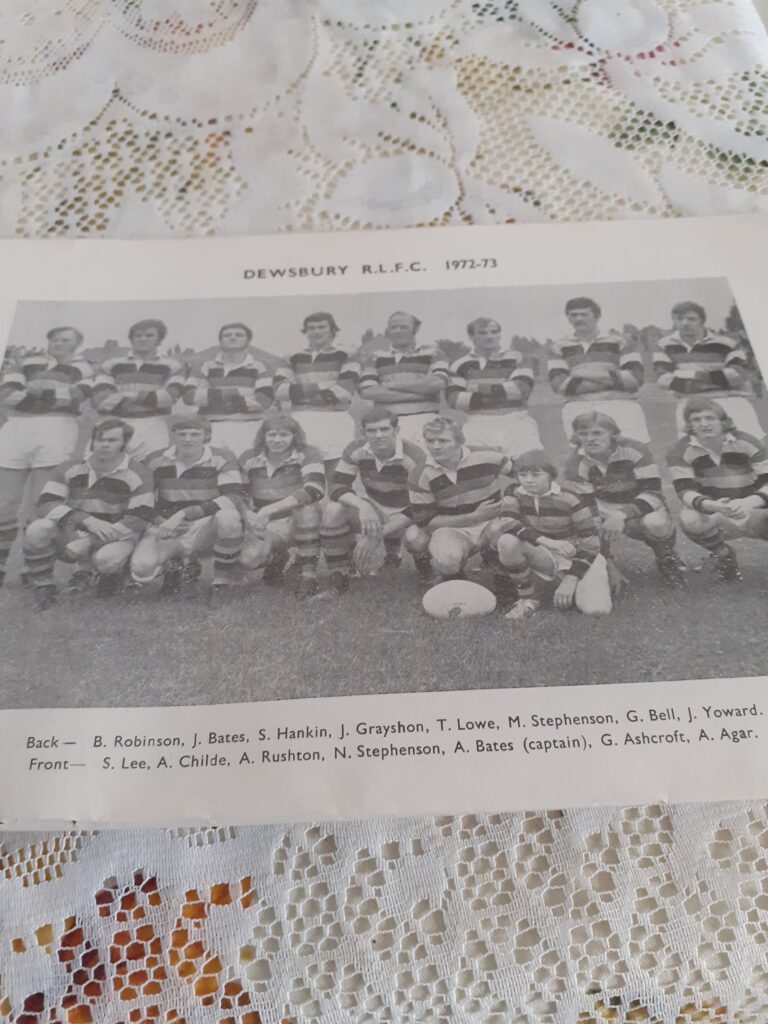 Representative honours were aplenty: 10 starts & 1 sub appearance for England, 13 starts for Great Britain, 14 Yorkshire appearances and 6 starts plus 3 off the bench on a GB tour.

Jeff signed for Dewsbury from the Heavy Woollen amateur scene. He ended up having the above career.
He received an MBE & wrote a book entitled 'The Warrior' which was published about his bewildering story in the game.

It is impossible to do proper justice to such a legend but what he achieved was fact – not fiction, incredible as it all may seem.

Thanks for the indelible memories to Kevin Osborne & Jeff Grayshon MBE. Once a Dewsbury player, always part of the Dewsbury family.