This coming Saturday evening sees our Rams embark on the Wembley trail with a first round challenge cup tie at Whitehaven. It is a repeat of last season when we ultimately travelled to the Recreation Ground on a muddy midweek night.
We all hope for the same result again, although Chilly will no doubt hope our kit will be easier to wash!
I reckon your perception of the challenge cup may depend on your age – the advent of summer rugby & super league has diminished the number of clubs who can realistically win it. When I was a young lad getting interested in the game there were probably twenty clubs who had genuine hope of lifting the iconic silverware.  Also the crowds were bigger for Cup games than for league fixtures  – that is no longer the case.
Getting to Wembley was the biggy! Dewsbury have won the challenge cup twice. Sadly neither triumph was at Wembley. In 1912 we beat Oldham 8 – 5 at Headingley in front of 15,271 spectators.
There would not be too many travelling by car back then & it would be fascinating to know what was the most popular mode of transport for the travelling Dewsbury fans.

The second Dewsbury cup triumph came in a two legged war time final when we beat Leeds.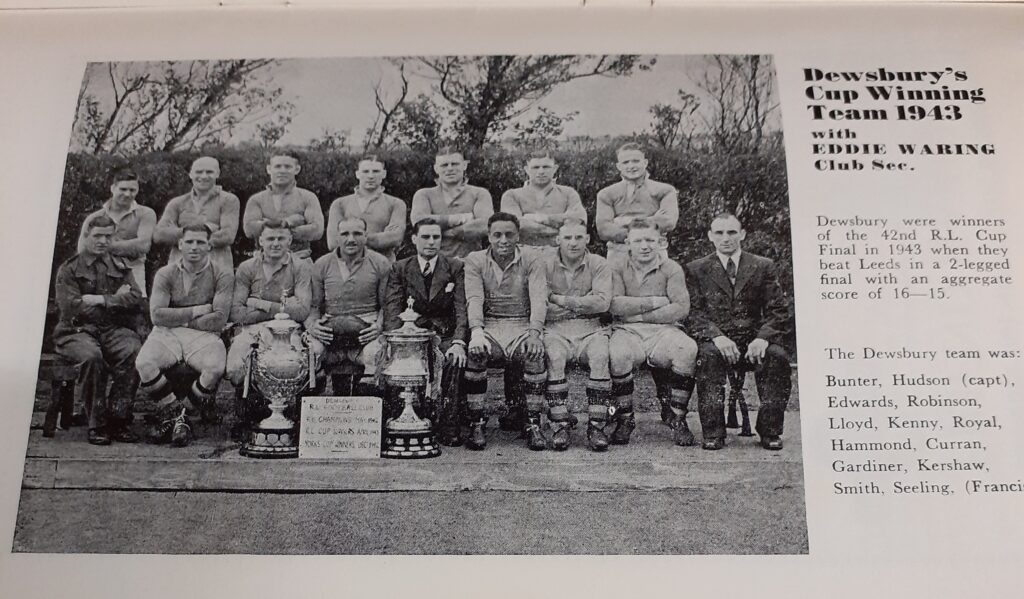 The first leg saw 10,470 turn up at Crown Flatt to see a home win 16 – 9. The second leg at Headingley saw a Leeds victory by 6-0 in front of 16,000.
Thus our men in red, amber & black won on aggregate 16-15. So on both occasions that Dewsbury lifted the famous trophy it happened at Headingley. 
The only other occasion we reached the final was the most historic. In 1929 we played Wigan in the first final to be played at Wembley. It was a truly groundbreaking move by the leaders of our game & certainly proved successful. 
41,500 were at the Empire Stadium but sadly they saw a cherry & white triumph by 13-2.
On four occasions between 1966 & 1974 we came tantalisingly close to a capital return – we reached the semi finals & it is probably fair to say we were the favourites in two of those.
In 1966 we succumbed to St Helens 12-5 at Station Road, Swinton after a magnificent effort when we led 5-0 at half time. The following year we returned to Swinton as favourites but were narrowly beaten by Barrow in a game I watched on BBC Grandstand. I recall going down town after the game with mum to do the shopping & seeing heartbroken Dewsbury fans sporting banners & rosettes returning home.
On to 1973, a landmark season in our history.  We became Champions by beating Leeds in the Championship final at Odsal when we were massive underdogs but lost to Bradford Northern in the Challenge cup semi final at Headingley when we were the favourites. 14,028 saw us go down 23-7. An emotional personal memory for me came on the platform at Headingley railway station after the game – there was actually a special train from Dewsbury to Headingley for the fans & I recall looking at an elderly gentleman ready to board the train home, I recognised him as a regular supporter & got the sad feeling that he had just seen the best chance of watching his team at Wembley ebb away.
Becoming Champions was arguably our greatest day but we were so close to getting to the challenge cup final as well in 1973.
We should have done the double although Stevo always said that the heartbreak of that cup defeat spurred the team on to win the championship. 
We again made the semi final stage in 1974, we were beaten by eventual cup winners Warrington at Central Park, Wigan.
11,789 saw a 17-7 win for a strong Wire outfit coached by the legendary Alex Murphy. 

In those years when we were semi final regulars the true classics were at Crown Flatt because we always seemed to get home draws in the quarter finals at a packed Crown Flatt.

In the 1966 quarter final 9,300 were at our former home to see a great try from Alvyn Newall inspire us to victory by 8-2 against Huddersfield.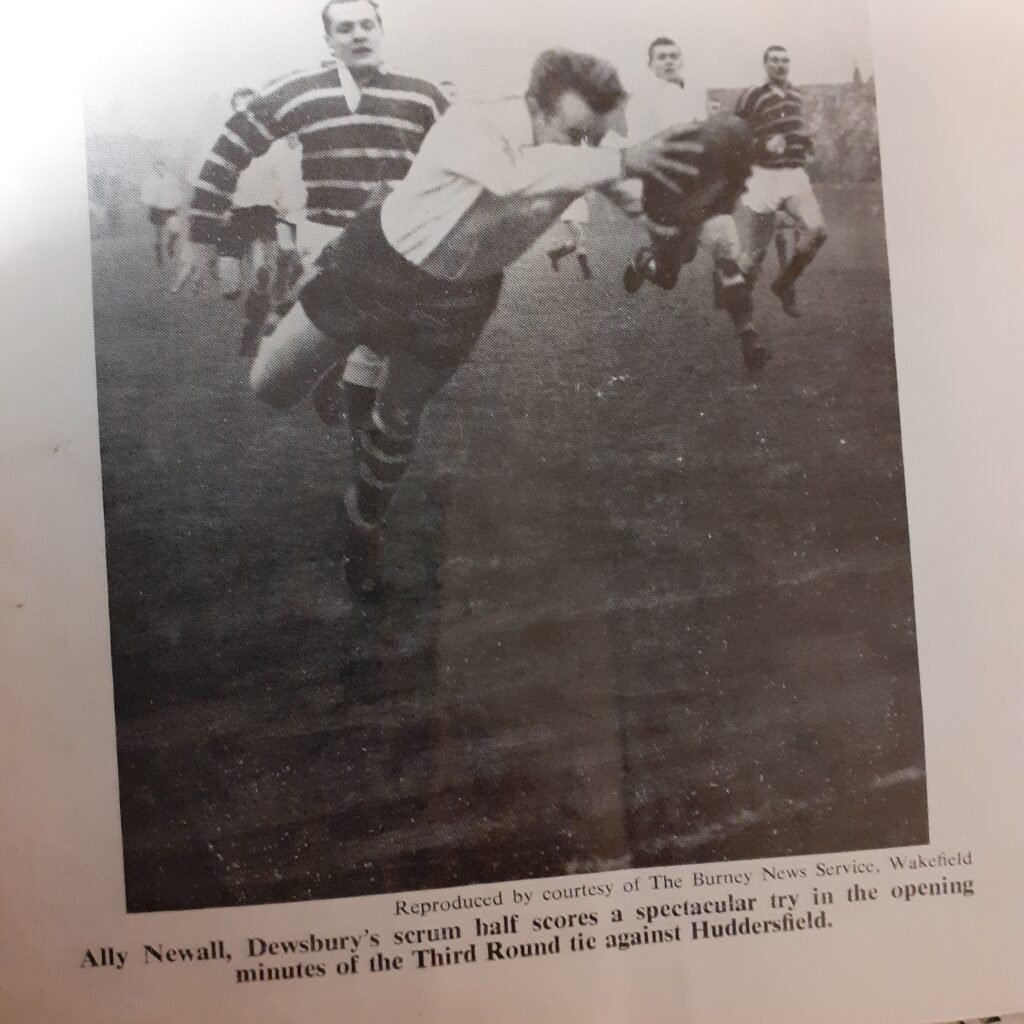 In 1974 a truly memorable afternoon saw us beat Leeds 9-2 in front of 10,208.
Graham Chalkley scored our try & Nigel Stephenson kicked 3 goals to send the city slickers home defeated. The long stand was packed from end to end that wonderful afternoon.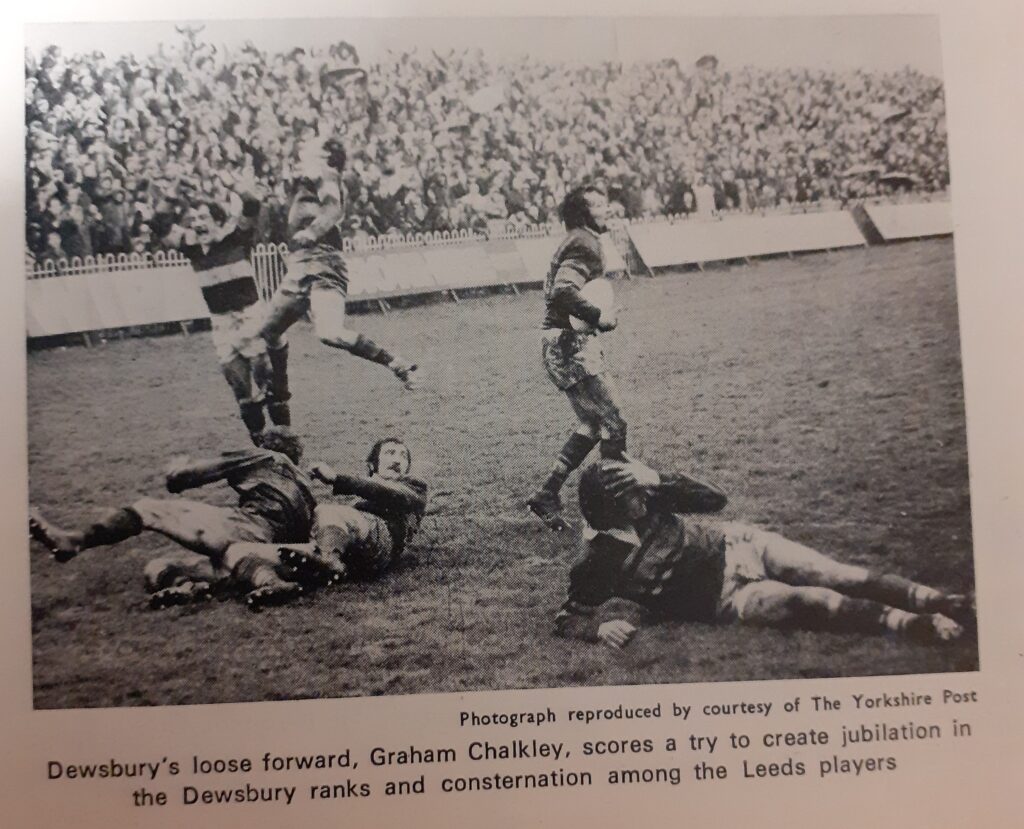 I mentioned last week a similar cup win against Wakefield when 14000 squeezed into Crown Flatt.
Challenge cup triumphs against local rivals with Crown Flatt bursting at the seams on those three occasions. 

During our period of ground sharing at Mount Pleasant whilst the Tetleys Stadium was being built I reckon our most memorable Cup tie was when Wigan came visiting.
This was the great unbeatable cherry & white team including the likes of Phil Clarke, Shaun Edwards, Dennis Betts, Dean Bell, Joe Lydon & other household names. I recall walking up the hill from Batley town centre to the mount & there was an unbroken line of Wigan supporters coaches from the ground all the way down to Foxes Biscuits.
We gave Wigan a good test & I always recall our winger Darren Rogers being given an ovation by the Wigan fans after scoring the best try of the game.

Inevitably the cup has provided moments of despair & you would have to say that losing to Sharlston Rovers in a tie staged at Featherstone followed a few years later by defeat to Wath Brow Hornets were real low points. The Wath Brow defeat brings us back to this coming weekend because that game was staged at Whitehaven. 

Every year of our history tells a different Cup story – Hopefully there will be a happy chapter to write this Saturday evening. 
Check out the Dewsbury Rams website for details of how to watch the livestream of the game