Let us start with John Bates, in every sense he was a true man of Dewsbury. 
He wore the number 12 shirt in our 1973 Championship final winning team but gave so much more in a distinguished career with our club.
A local man who turned up at Crown Flatt with brother Alan & asked for a trial! 
Although John was arguably our most iconic occupant of the number 12 jersey he initially started his life in red, amber & black as a centre.
An absolute copybook tackler who went on to gain representative honours. He was always very visible around town, I remember my mother going into the James Wilby office in Dewsbury town centre to order coal deliveries to our house & John was always the man behind the desk!
I always thought it was fantastic that after he retired from playing you could always spot him wearing a Dewsbury scarf on the long stand at Crown Flatt & subsequently the South stand at the Tetley's Stadium. 
An absolute character of the lovable rogue variety was Andy Dickinson. He came from the Deighton area of Huddersfield & had played for Halifax, Sheffield Eagles & hometown Huddersfield before arriving at Crown Flatt in 1990. Andy actually wore the no 12 shirt in the final game at our beloved former home.
I remember being on that massive terraced side at Fartown watching Dewsbury get a fantastic win over Huddersfield & Andy was an integral part of a win over his hometown club. He was the sort of guy who relished the occasion!
Let us move on to Rob Spicer. He came to the club in 2009 after previously playing for Wakefield Trinity & York City Knights. He fitted the mould of ever reliable & Mr Consistency.  He made 133 appearances for us scoring 22 tries. 
1996 was a landmark year for Dewsbury Rams as we recruited several members of the 1995 South Africa Rugby League World Cup squad. When you consider the many years that most of our team came from round the corner at Shaw Cross this was a big culture change!
Two of the signings were second row forwards. Jaco Booysen came to the Tetley's  Stadium in 1996 & also played for his nation in the 2000 world cup. Tim Fourie only made 3 international appearances mainly due to the fact that after leaving Dewsbury he concentrated on a career in Rugby Union. However he did remain in West Yorkshire as he spent 3 years playing for Leeds Tykes. 
Although Warren Jowitt gained immortality at the Tetley's Stadium for being the coach of our all conquering team in 2009 when we won every league fixture, it is impossible to forget his period as a player at the club. A magnificent versatile forward who succumbed to the persuasion of Jack Addy to join our club.
Ged Corcoran was a much travelled Irish international who played well for Dewsbury in 2005. An interesting club career in that he played for Limoux & Toulouse in France in addition to several english clubs.
Another wearer of the Jersey was a man still playing for Featherstone Rovers, James Lockwood. A hard grafting physical forward who made 57 appearances for the Rams between 2009 & 2011.
Let us go back to the distant past now & discover a trio of interesting characters, Sandy Orford was a welshman from Pontypool who made 106 appearances for Dewsbury between 1929 & 1935. He later became a professional wrestler in the 1940's & 50's. He did make 4 international appearances for Wales & also played for Wakefield Trinity and Bradford Northern. 
Derrick Schofield started his career at hometown Rochdale Hornets in 1953 but later crossed the pennines to play for Halifax, Castleford & Dewsbury. 
He was obviously a player of quality as he gained selection for Lancashire, England & Great Britain. 
Completing our trip of past heroes is Frank Smith who played for Dewsbury as a wartime guest in 1943. Either side of that spell he made 282 appearances for Castleford between 1932 & 1947. Again this guy was obviously quality as he played for Yorkshire. 
In more relatively recent times.
In 1982 we find another man who gained County selection in Alan Dickinson. He came to Crown Flatt in 1982 after previously playing for Keighley, Castleford & Wakefield. 
In much more recent times Luke Adamson, Ed Barber & Lucas Walshaw have played the position. 
The 2020 & recently announced 2021 owner of the shirt is none other than Michael Knowles, what a fine career he has enjoyed & hopefully there is plenty more to come.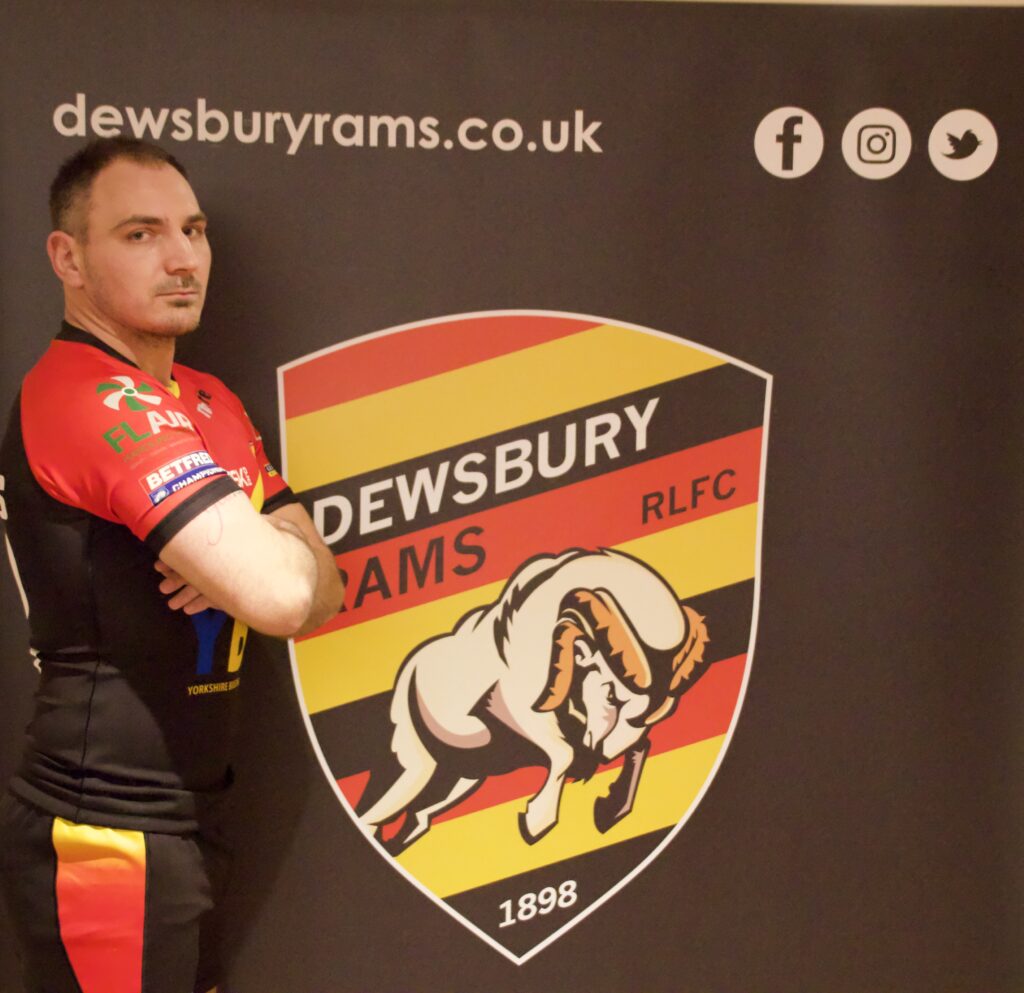 An intelligent player as witnessed by the fact he has occasionally dropped into the half back position. Easily recognisable by his trademark scrum cap! I can remember him all the way back to his days as a Castleford Tigers academy player, he did go on to make a Super League debut for the tigers. Wherever he has been he has proved to be the inspiration for a successful era for his club. Fantastic record of achievement at Gateshead Thunder, Barrow Raiders, Sheffield Eagles & Featherstone Rovers.  It is massive for the Rams to retain his services, the sort of player who contributes off the field as well as on it. Best wishes for 2021 Michael!