We can now reveal the 2021 squad numbers for next season.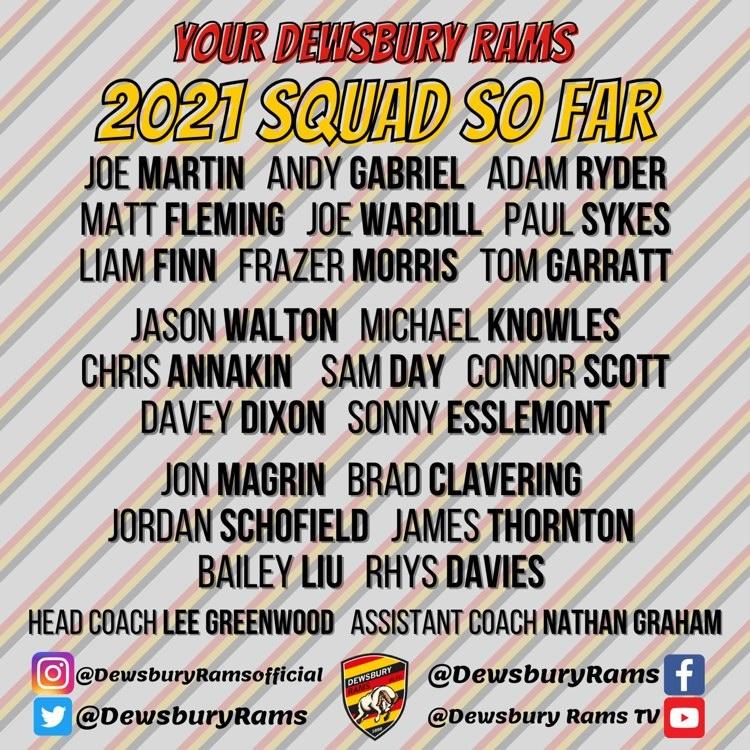 1 Joe Martin
2 Andy Gabriel
3 Adam Ryder
4 Matt Fleming
6 Paul Sykes
7 Liam Finn
8 Frazer Morris
10 Tom Garratt
11 Jason Walton
12 Michael Knowles
13 Chris Annakin
14 Sam Day
16 Connor Scott
17 Joe Wardill
18 Davey Dixon
19 Sonny Esslemont
21 Brad Clavering
23 Jon Magrin
24 Jordan Schofield
25 James Thornton
26 Bailey Liu
29 Rhys Davies
On the 2021 squad head coach Lee Greenwood made the following comments.
"I'm really happy with the squad at the moment. I'm happy with what we have done so far. As I said earlier this year the main focus was about keeping the majority of the squad together. We have managed to do that apart from a handful of guys who have moved on.
"We've managed to replace those who have left with some good players who have come in. If we had to play tomorrow then I am more than confident of playing with what we have.
"We still have space to bring one or two more in. However we have a base now which we are happy with.
"If you look at things although we haven't grown in numbers. We didn't have many who had played in the Championship outside the 17 last year. It's still a little bit like that I suppose but maybe we have just got a bit more experience with those we have brought in. You look at the likes of Joe Wardill and Brad Clavering they have played a bit at different levels than just coming out of academies.
"Obviously we'll look at what we look like in pre-season and then assess if and where we need to improve.
"I am still on the look out for one or two more players however I will not rush into anything. I'm happy to be patient and bring the right people and players we want here.
"We have got a few guys who can cover a few positions which is great. The game has changed slightly since we've been away, the six again rule and the ball being in play more, so that will have an affect.
"No coaches at our level will know exactly how this extended break has affected each player. They will all come back at different levels. You can train as much as you want individually but there is nothing like training as a team or playing games. That will all be interesting to see how players come back.
"One player who's left that we need to look at position wise is Dom Speakman at 9. Hopefully Dom might return at some point if his work committments allow. However for now we have to plan without him. So that is one position that we need to be on the look out for. However again I'm happy to wait for the right person, I do feel we have enough in the squad at the moment to cover for him. However I would like to bring someone in there to fill that hole that he has left."
On Tom Garratt returning to the team and being able to have centre Jason Walton available for games, Greenwood said: "You are looking at two players there that didn't play for us last year and are now available. So we haven't lost anything quality wise from what's gone in and what's gone out, bar losing Dom. I would say we are as strong going into 2021 squad wise, if not stronger than we were in 2020."
Lee continued: "We said very early on we didn't need to change a lot. All the players who were contracted to us for 2020 were offered deals. Some chose to not take it up and move on. However most have stayed and we've managed to bring a few more in. There are still a few positions I'm keeping my eye on, but quality wise as I said I think we are as strong if not stronger for 2021."
Finally Greenwood wanted to place on record his thanks to those players who have left the club.
He said: "To the guys who have moved on, I'd just like to place on record my thanks to them. They put loads of good effort in, and I have no problem with their decisions. They gave their best whilst at Dewsbury, they were part of what we did last year and the atmosphere we created in training and on match day."