Dewsbury Rams player Martyn Reilly was disappointed to be heading out of the Challenge Cup on Sunday evening, but says this is a time Rams fans, players and staff need to stick together despite the defeat.
On the defeat on Sunday he said: "Obviously it wasn't a great performance, but as daft as it sounds I think there was still a few positives in there. The fact we stuck together showed some good character and didn't role over and give up and in the end it could have gone either way.
"However we know we weren't good enough and I think a big factor was down to individual errors which we need to look at and tidy up along with our discipline at times as both weren't good enough."
On going out of the cup competition, Reilly insists whilst it is disappointing the most important priority is the league.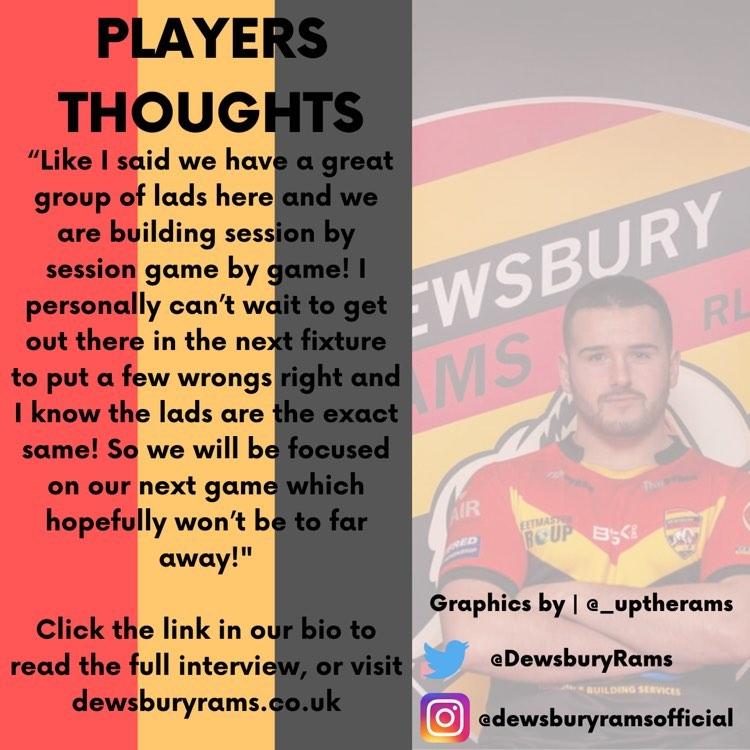 He commented: "Yes it is disappointing but it's not the end of the world, we went to Whitehaven on Wednesday and got a good result to get to the next round. Obviously it would have been nice to be in the hat for the next round and getting a big tie against hopefully a Super League club, but realistically we're not going to be winning the challenge cup, so it's important now we turn our focus to what really counts which obviously is the league."
Reilly looks back on the start the club has made this season winning four our of their first six games. Three being in the league and one being in the cup, that coming up at Whitehaven on a Wednesday night.
Reilly believes the squad can bounce back and come back stronger and better than ever.
On bouncing back he said: "Yes it's been a huge start for us and we have beat some good sides but we still have a lot more to bring and a lot to work on and I think we are going to get better and better.
"We have a great set of lads here and we are really coming together as a team, and to become a great team we have to lose together as well because it's going to happen. It is important that we bounce back from it positively and get straight back into things!"
The Ireland international scored his first try of the season up at Newcastle but says whilst it was good to get on the score sheet who would have preferred to win the fixture.
He said: "Yes it's always good to get over the line but it would have been a lot sweeter if we'd have got the win!"
Reilly is thinking positive going forward and says the team can't wait to get back going again whenever that might be.
He said: "Like I said we have a great group of lads here and we are building session by session game by game! I personally can't wait to get out there in the next fixture to put a few wrongs right and I know the lads are the exact same! So we will be focused on our next game which hopefully won't be to far away!"
Finally the 23 year old wanted to thank the fans for their support over the last few weeks at the start of the season.
He said: "I'd also like to thank the fans, as so far this year there support has been amazing! It really does help having you guys at the games getting us through and I hope to keep seeing the fans in big numbers!"