Dewsbury Rams take on the Leigh Centurions a side that many see as promotion favourites in the race for Super League.
John Duffy Leigh's head coach has built an impressive squad over the Pennines and many will be predicting a Leigh win.
The Leythers have brought in key players such as Jack Addy from Hull KR and Ben Hellewell from the London Broncos. Former Rams players Callum Field and Matty Wildie have also signed on.
Formed in 1887 the club joined the game of Rugby League when it was created in 1895, the club finished the inaugural season 9th.
In recent years the club has got the better of the Rams with the previous ten last meetings shown below.
LAST TEN MEETINGS
Dewsbury 0, Leigh 40 (ChR18, 23/6/19)
Leigh 34, Dewsbury 12 (ChR11, 22/4/19)
Dewsbury 52, Leigh 6 (CSR7, 30/9/18)
Dewsbury 12, Leigh 58 (ChR18, 24/6/18)
Leigh 36, Dewsbury 0 (ChR7, 25/3/18)
Leigh 58, Dewsbury 0 (ChR23, 24/7/16)
Dewsbury 18, Leigh 40 (ChR9, 3/4/16)
Leigh 40, Dewsbury 24 (ChR19, 22/7/15)
Dewsbury 28, Leigh 32 (ChR11, 3/5/15)
Leigh 33, Dewsbury 22 (ChQSF, 28/9/14)
Other stats to look out for in the game are. 
PLAYER STATS
LIAM FINN needs two tries to reach 150 for his career.
– 49 for Dewsbury Rams (2006-2009, 2019)
– 1 for Newcastle Thunder (2019)
– 8 for Wakefield Trinity (2004, 2016-2018)
– 9 for Castleford Tigers (2014-2015)
– 71 for Featherstone Rovers (2005, 2010-2013)
– 2 for Halifax (2002-2003)
– 8 for Ireland (2007-2018)
    (0 for Widnes Vikings (2018, loan)
MICHAEL KNOWLES needs one try to reach 100 for his career.
– 13 for Dewsbury Rams (2017-2019)
– 1 for Featherstone Rovers (2017)
– 42 for Sheffield Eagles (2012-2016)
– 17 for Barrow Raiders (2010-2011)
– 22 for Gateshead Thunder (2007-2009)
– 4 for Castleford Tigers (2005-2007)
GREGG McNALLY needs one point to reach 1,000 for his career.
– 484 for Leigh Centurions (2012-2017, 2019)
– 20 for Bradford Bulls (2018)
– 12 for Huddersfield Giants (2011)
– 22 for Barrow Raiders (2011, loan)
– 121 for Oldham (2010, loan)
– 298 for Whitehaven (2008-2010, loan)
– 42 for Ireland (2010, 2012, 2018-2019)
HEAD COACH COMMENTS
Head coach Lee Greenwood is confident of his side putting up a good test against the red hot favourites for promotion.
He said:."I am looking forward to it, I have been for a while now. It's come around pretty quick for us and I think we are just ready to go.
"We have got a tight bunch now who have worked hard in pre-season, they like each other and they did some good stuff against Bradford.
"There is a bit of spirit there and we want to give Leigh a game on Friday. We know it will be tough as they are one of the red hot favourites for promotion this year and they are having a good go at it.
"We are massive underdogs going in but we want to give them a game no doubt about it."
THE SQUADS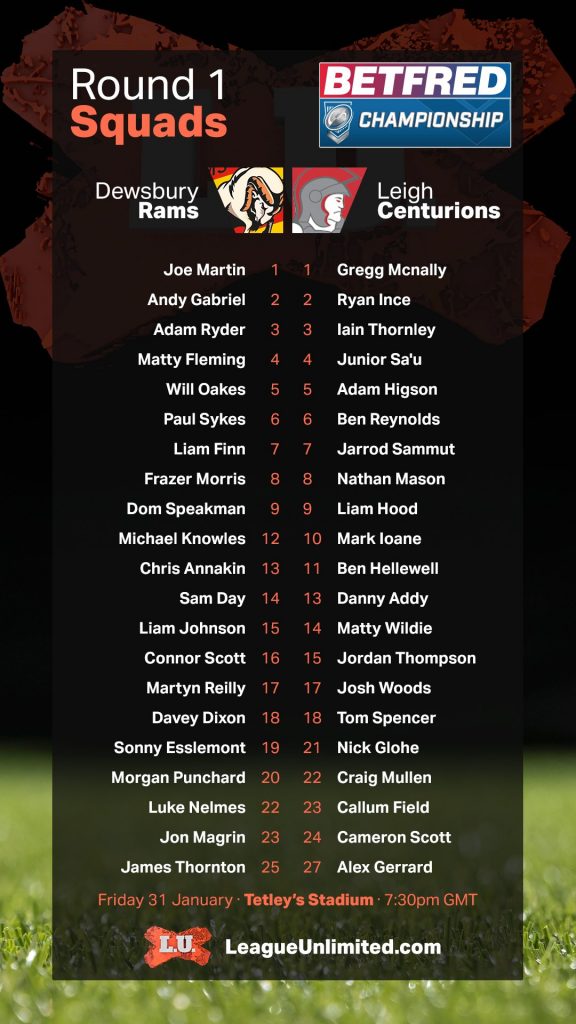 Finally the club would like to remind supporters of a few things.
Season tickets can still be bought before the game at the main club reception or from the club shop situated next to the main reception on the North Stand-.
Those supporters who have bought online discounted tickets should go through turnstile 3 North Stand- or turnstile 5 South Stand.
There will be post match entertainment in the Royal Suite as local singer Simon Walker takes us through the night after the match. Also there will be post match interviews with the man of the match and head coach Lee Greenwood.
#YourClubYourCommunity